UGH. It's February. Valentine's Day is just round the corner. And this can only mean one thing: you'll be stuck in between avoiding this dreadful day by staying in your room curled up with a good book and a cup of tea AND going out, trying not to be bitter, pretending that it's totally fine to watch lovers being lovers. Puff.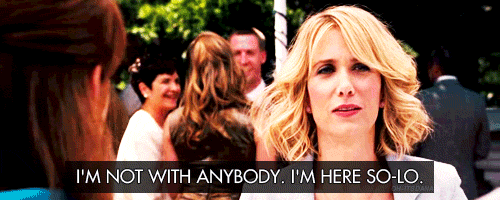 Let's be real – most of us want to find a partner for Valentine's Day, especially those who haven't experienced a REAL date ever. If you're NJSB (No Jowa Since Birth), you know the feels. While everything seemed to turn pink and red, love songs playing everywhere and everyone is busy having romantic date with their BF/GF, you're there, wondering where to go and what to do.
But being single on Valentine's Day shouldn't be a bad thing. Instead of sulking, why not spend February 14 with the person you should learn to love the most? Yourself. Well, dating yourself sounds better than spending the night with someone you don't know. #BlindDate
So stop for a while what you're doing and jot down these ideas on how to spend Valentine's Day solo.
OST: Sit Still, Look Pretty – Daya 🙂 🙂 🙂
1. Order a 12-inch pizza, grab a pint of ice cream and a bottle of wine and face the TV.
For starters, if you are too lazy to get up, dress up and go out and you just want to chill, you can order food and drinks and keep your eyes glued on the TV. There are plenty of TV series that can keep you company. Or you can watch and enjoy local and international films online for free. If you have decided to go out a little bit, you can head over the nearest mall and watch exciting movies this month from awards-season favorites to much-awaited sequels and indie films. You surely want to see Christian Grey on the big screen, don't you?
2. Take a solo trip. Valentine's Day may just be the best day to explore the unknown.
Maybe it's time to finally make your travel plans a reality. #TamaNaAngDrawingBes. With a lot of beautiful places and getaway destinations that you can easily explore like Batangas, Zambales and Rizal, you'll surely forget the reason why you're spending the sappiest day of the year alone.
If you can't decide which place to visit, these lists and travel guides can definitely help you:
10 Astonishing Places to Visit in Zambales
Zambales: The Best Place to Surf, Swim and Eat
10 Fascinating Beaches You Should Visit in Batangas
This Maldives-Inspired Resort in Batangas is Your Home Away From Home
8 Picturesque Sights in Rizal That Are Just Waiting to be Explored
3. Treat Yourself
The best thing about going solo on Valentine's Day? You're spared from thinking of best gift ideas and buying expensive stuffs for your partner. Actually, you can squander that money for pampering yourself. Buy that stunning dress you've been eyeing since before Christmas, or drop your money on a guilty pleasure like food or a relaxing massage. Seriously, just do whatever the hell you want, have fun, be happy.
4. Meet other solos
For sure, you are not the only one flying solo on hearts' day. If all your friends are going out on a date on February 14, then go out, mingle, hit the clubs. Maybe if you meet someone interesting, you won't fly solo next Valentine's Day. 😉
5. Treat February 14 like a normal day.
Just because everyone else is celebrating Valentine's Day doesn't mean you need to celebrate it too. If you really don't want to go out and make a fuss about Valentine's Day, it's totally OKAY. Pretend it's a normal day. Go to work, get back to that good book, cuddle with your cat or dog, clean the house. Treat the hearts' day like it's no big deal. 🙂